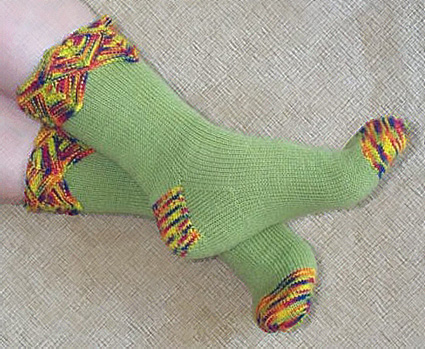 I made a post over at craftster because lately it seems like socks are EVERYWHERE.
And yet, I just couldn't give a damn about them. I like the stitchwork, the lace, but it just doesn't seem worth the effort to me.
Legwarmers? Sure, people actually see those. Slippers? Great, and comfy! And knitable on needles and looms.
But socks? I just can't see the time and effort involved in doing something on size 1,2,3 needles with a lot of complication to them.
I do realize that they do work up fast for a lot of people. But it seems like I could just do a cute cloth, handkerchief, headband, amiguriumi, or something better with my time!
I have to say, this is what makes them sound a bit intriguing, but then my mind decides against them:
A post by iameannis at craftster in response:
"If you are at all an impatient knitter, socks are the greatest project.
If you are new to knitting, socks are a great way to master a bunch of techniques: increasing, decreasing, picking up stitches, customizing fit, using dpns, ribbing, cables, lace patterns, kitchner stitch. It's also fun to play around with how you knit them (two circs, magic loop, toe-up, top-down, etc.)
Socks are kind of like the knitter's Choose-Your-Own-Adventure pattern."
What got me was the:
"Socks are kind of like the knitter's Choose-Your-Own-Adventure pattern."
That's what I love about knitting - some simple items that you wear can be changed in an infinite number of ways. But why apply that theory only to socks? Why can't other items be just as quick and fun?
Socks. I just don't get it.